Current popular imaging devices (including video camera, sports DV, automobile data recorder, mobile phone) are using the single sensor + single lens imaging solution, which has two big problems:
1) The view angle is limited, depending on the imaging angle of the single lens, the maximum is not more than 180 degrees (with fisheye lens).
2) The resolution is limited, subject to the image pixel of a single sensor and currently has the maximum 4k (8 megapixel).
But in a very large number of video applications, users want a wider range of imaging vision and higher resolution.
Adopt multiple image sensor in one camera and use the multi - image video stitching fusion technology, can achieve wide angle of view (360 degrees), high definition (currently up to 100 million pixels) panoramic view, greatly improve and enhance the visual experience comparing with current single sensor imaging.
With the rise of VR (Virtual Reality) concept and technology, the demand for a panoramic visual experience begins to be rapidly promoted and popularized in consumer and industry markets, and the visual media of film television, webcast, and video sharing (including video and pictures), the demand for 360 degree panoramic video content is getting bigger and bigger. A large number of internet companies, listed companies, investment companies began to develop and invest the panorama, and related products of VR / AR . The dual power of technology and capital will accelerate wide-spread application of the panorama over the next few years.
Panoramic technology has a broad application prospect in VR webcast, VR video sharing, panoramic film shooting, consumer market (panoramic sports DV, panoramic view, panoramic uav aerial camera, driving recorder, etc.), industry market (security, education, medical treatment, remote meetings, etc.) .
Huatu panoramic camera application scope in the field of security generally includes public places, industrial monitoring, traffic management, medical facilities, building monitoring, campus, shopping mall and entertainment leisure places, etc.
Huatu panoramic camera includes fisheye panoramic camera and multi-sensor panoramic camera, although the fisheye panoramic camera can monitor a wide range of area, relatively speaking, its focal length is too short, which greatly restricted detection range, for example, human face will be blurred if more than 5 meters distance.
Huatu multi-sensor panoramic camera, mainly adopts high quality industrial lens and advanced algorithm, no image distortion phenomena comparing with fisheye camera , can obtain images under human visual habits , also ensure the overall image of clear and accurate performance after corresponding optimization.
In practical cases, the fisheye panoramic camera is suitable for small space, simple monitoring environment, such as retail stores, small shopping malls, elevators, parking lots and conference rooms etc.   
As for the high-profile installation scenes, such as traffic intersections, convention centers, terminals, transport hubs, port logistics park, etc, due to the inconvenience of multiple surveillance cameras establishment, users need to extract the events of multiple cameras running through the big scene, it's a good choice to use multi-sensor panoramic camera.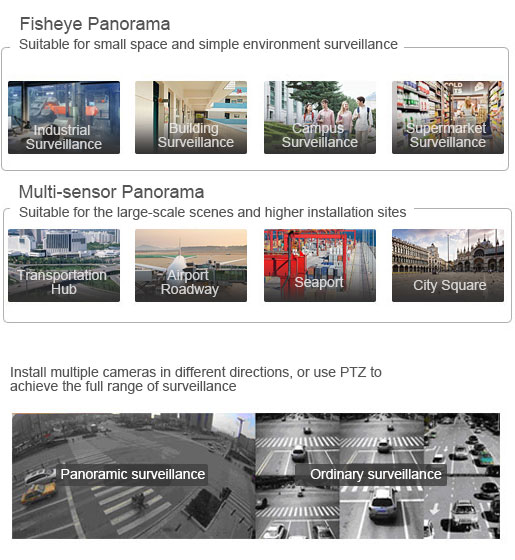 On the whole, the main applications of multi-sensor panoramic surveillance are the following:
Very important sites which need to monitor the whole site's activity
A wide range of public places such as traffic intersection, stadium, outdoor park lot, port, gas station etc.. These places have a wide view, multi-sensor panoramic camera installed in a suitable height can cover a surveillance diameter of hundreds of meters. Monitoring the whole site's activity by multi-sensor camera, at the same time gain the details just like face, vehicle license number by cooperating cameras such as PTZ camera.
The sites which have restriction of camera installation quantity
Just one multi-sensor panoramic camera can replaces multiple traditional signal-sensor cameras to gain a coverage of 360°/180° view, reduces the total number of cameras required. Further more, a single installation site is enough for a panoramic camera, no need several cameras installation places, which greatly lower the requirements for infrastructure such as cabling, poles, power, etc., also save installers' time and end users' financial budget, lessen maintenance service in long term.
The sites need immediate alarm and track
Using high-resolution multi-sensor panoramic camera surveillance and built-in intelligent algorithm, coupled with PTZ camera, to achieve panoramic surveillance and key images capture, point combined with area monitoring function. Through intelligent analysis of panoramic camera, such as a moving target on the default no man's area, like people running in the square, traffic accidents etc, can trigger PTZ camera to zoom in to see details, can early alarm, and to make sure that the real time surveillance.